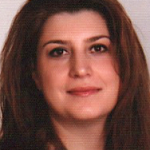 Dr Negin Mosahebi
Practice limited to Endodontics (root canal treatment) (UK, GDC: 75068)
Negin Mosahebi qualified from Guy's, King's and St Thomas' Dental Institute in 1998. She won the Malleson Prize for her final year research project on caries detection which was published in 2002. Negin continued to work at Guy's Hospital where she gained significant experience in restorative and oral maxillofacial fields. Whilst working in general practice, Negin became an elected Member of the Faculty of Dental Surgeons at the Royal College of Surgeons of Edinburgh in 2002.
Since 2003 Negin has devoted her clinical practice solely to Endodontics. She achieved Masters in Endodontics in September 2006 and completed her specialist training at Guy's Hospital (MClinDent) in 2009. She is an active member of the British and European Endodontic Societies. Negin is currently working in several referral-based practices in and around London and is a part-time clinical demonstrator at King's College Hospital.
Negin is committed to providing the highest standard of clinical care based on the most recent evidence-based dentistry. She runs regular CPD courses for general practitioners and enjoys teaching.