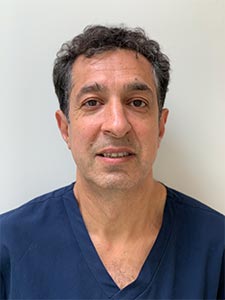 Tandlakare (Sweden)
Dr Khosro Basirat
Principle Dentist & special interest in Cosmetic and Implant Dentistry GDC 71321
Dr Basirat has established a reputation and expertise in advanced restorative, cosmetic and implant dentistry. As the name of the practice suggests, he wanted to create an artistic environment coupled with a professional, warm and friendly team in spacious and tranquil surroundings, providing a fully comprehensive service from facial aesthetics to podiatry all under one roof.
He qualified in dentistry in 1994 from one of Europe's most prominent medical universities, The Karolinska Institutet in Stockholm Sweden is perhaps better known as the home of the Nobel Assembly, a group of fifty distinguished Professors, who choose the Nobel Prize laureate in physiology or medicine each year. Following his qualification he worked in Sweden, where most significant dental systems and technologies such as dental implants have originated.
In the field of implantology Dr Basirat pursued an extensive postgraduate education including one year training with Professor Hilt Tatum at the Tatum Institute in Harley Street. This has enabled him to provide single or multiple implants alone, or in combination with bone grafting, bone expansion and open and closed sinus lifting as well as implant supported dentures.
In the world of cosmetic dentistry Dr Basirat has developed a creative approach and solutions to most aspects of aesthetic, restorative and reconstructive dentistry to provide a long lasting beautiful smile. He is a member of the ADI (Association of Dental Implantology) and the BDA (British Dental Association).