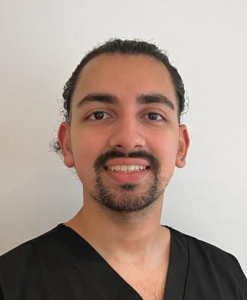 Dr Sanjeev Paul graduated from the University of Bristol and has a keen interest in restorative and cosmetic dentistry. Sanj is an Invisalign provider and enjoys composite bonding and veneer/crown work. Sanj has a keen interest in research and was recently published as a lead author in the MDPI dentistry journal.
Sanj has a dedicated, ambitious and caring nature and uses this to drive his passion for continuous postgraduate learning. He is currently completing the final part of a postgraduate diploma (MFDS) with the Royal College of Surgeons of England. He is also currently completing his diploma in Restorative and Aesthetic dentistry taught by some of the UK's leading dentists and specialists.
Sanj is a calm and empathetic individual. This has underpinned the strong and trusting rapport he has developed with his patients. Sanj always aims to ensure his patients receive the most innovative treatments with quality results.
Outside of work, Sanj is an engaged sportsman, formerly competing in British Powerlifting Finals and competing regionally in badminton which he still continues to play weekly in London. Sanj also loves travelling the world and spending time with his friends and family.